World War II Hero, Bombardier Lt. Edouard Jacques
They were ordinary Americans placed in extraordinary situations. Bombardier Lt. Edouard Jacques and his crew are part of the greatest generation: the heroes in World War II who changed history.
A lead bombardier aboard a B-24 Liberator in the "Mighty Eighth", 96th Bomb Wing, 458th Bomb Group from 1944 to 1945, Lt. Jacques survived 30 missions over Germany, earning him the Distinguished Flying Cross, and his crew, the Lead Crew Commendation.
As a young man coming of age in RI, Edouard Jacques had his sights set on one thing: going home to his newly married sweetheart and starting a family. But first, he became a hero of World War II, 25,000 feet over Nazi Germany.
Lt. Jacques was recognized for "extraordinary achievement while serving as bombardier on many heavy bombardment missions over enemy occupied territory and Germany," and for his "coolness and exceptional bombing skill…in the face of heavy enemy opposition."
His story is a familiar tale of bravery in the face of tyranny common to those of his generation.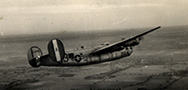 Click Here
to view 30
actual mission maps of Edouard Jacques and
his crew.
View more pictures of Lt. Edouard Jacques and his crew!
The Crew – Audio Interviews
They were sons of pioneers,
of immigrants, of tobacco growers, contractors from New Jersey, electricians from New York City, and a butcher's son from Germany. Listen to some actual interviews below!

COMING SOON –
Interviews were recorded between 2005-2010, and include Edouard Jacques and his crew. They were men of the 8th Air Force, 96th Bomb Wing, 458 Bomb Group, 752nd and 755th Squadrons
Lead bombardier of The 458th Bomb Group – Edouard Jacques from RI
Waist Gunner –
Bob Giles from South Carolina
(coming soon)
Pilot of The 755th Squadron –
Fred Eisert from Ohio
(coming soon)
Pilot of The 752nd –
Merlin Tebbs from Utah
(coming soon)
---
Read Reviews Here
Thirty Missions to Marie
Read all about
Lt. Edouard Jacques
and his crew.
Arthur G. Capaldi
, Author
Rhode Island's Governor Chafee
Awards Lt. Edouard Jacques the Rhode Island Star

Rhode Island's Senator Reed
Awards Lt. Edouard Jacques the Distinguished Flying Cross


Documentary